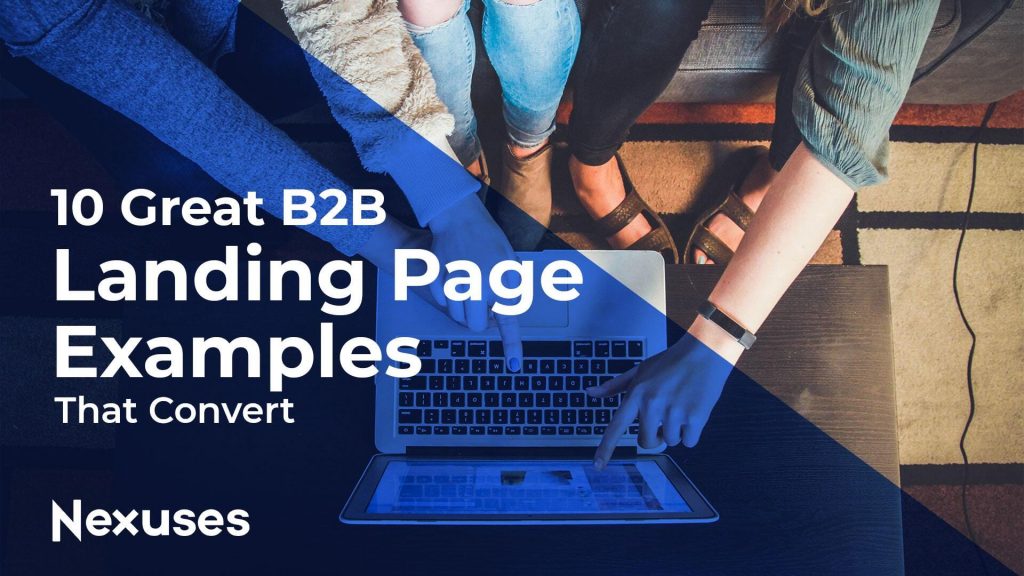 What's most important when it comes to engaging audience? Landing Pages – A quick responsive and stylized landing page always hits on point when it comes to increase user engagement. There are a lots of examples of good B2B landing page and various ways to reduce bounce rate from your website.
An effective landing page is a necessity for users to know what they will be offered from your website. It is like a checklist for them to know if the website has the content that they are looking for. I have prepared a list of 10 more amazing landing page design which can help you in optimizing your website's traffic with easy and efficient means.
Look out for these Landing Pages –
Tip – Set expectations Upfront.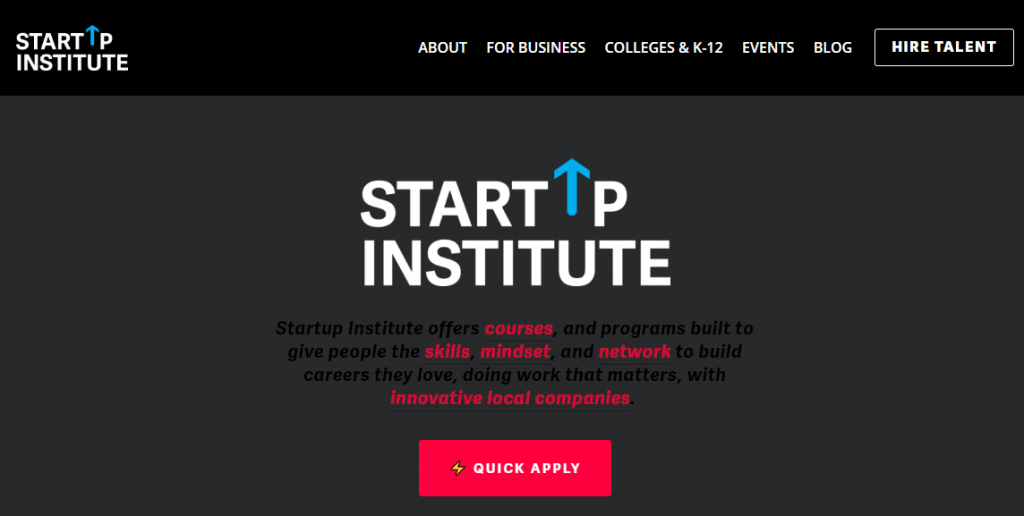 The landing page of Startup Institute offers signup form. Users generally get skeptic while giving up their personal information to any website. They always worry if their information would be misused by the site.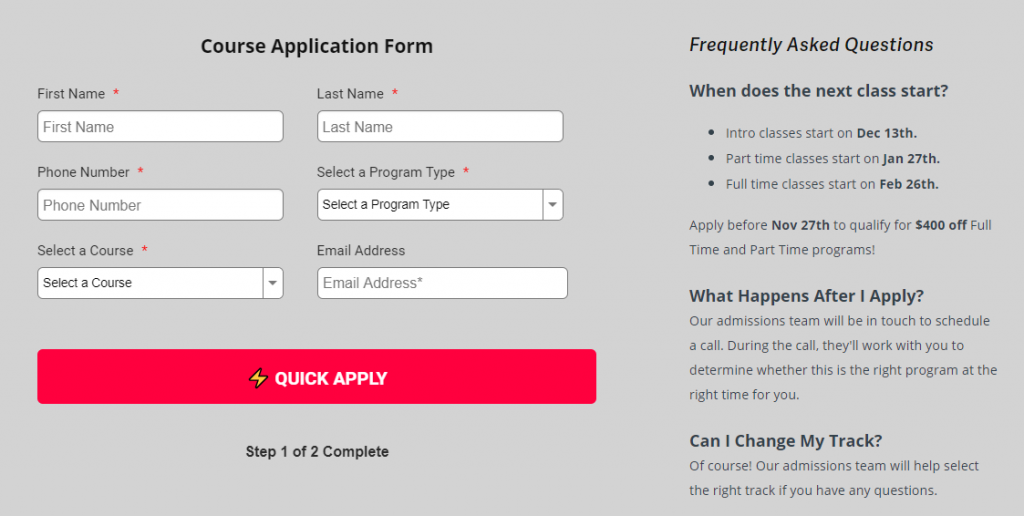 Startup Institute plays smoothly with their user's expectations and has setup a Q/A section next to the sign up form. The Q/A section indicates everything that will happen to their personal information when they sign up, and assures that their information will not be misused.
It is a great and effective way to increase user engagement.
Tip – Setup an attractive CTA. Implementing Microcopy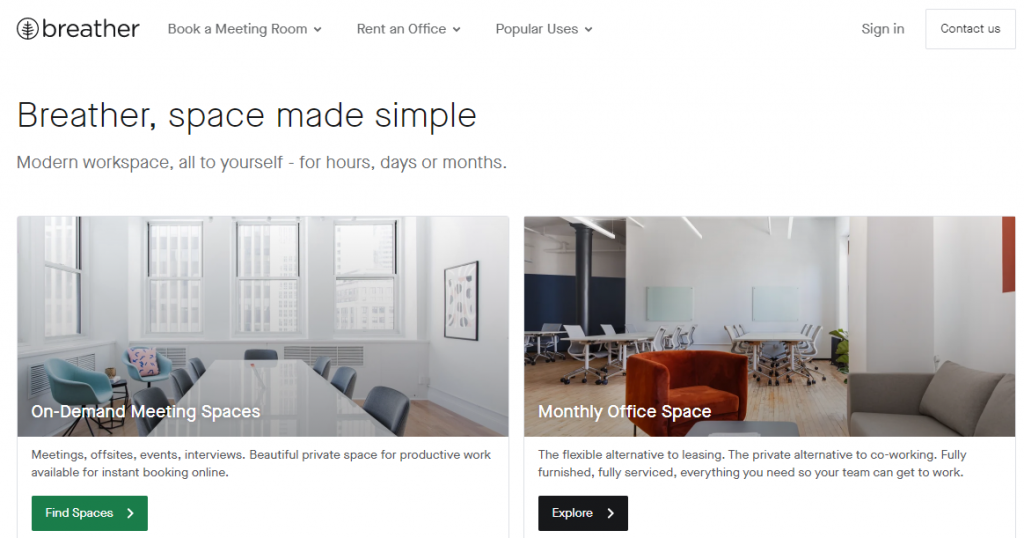 Open Breather, and instantly you will be given an insight into their working and then directed to a simple yet attractive CTA.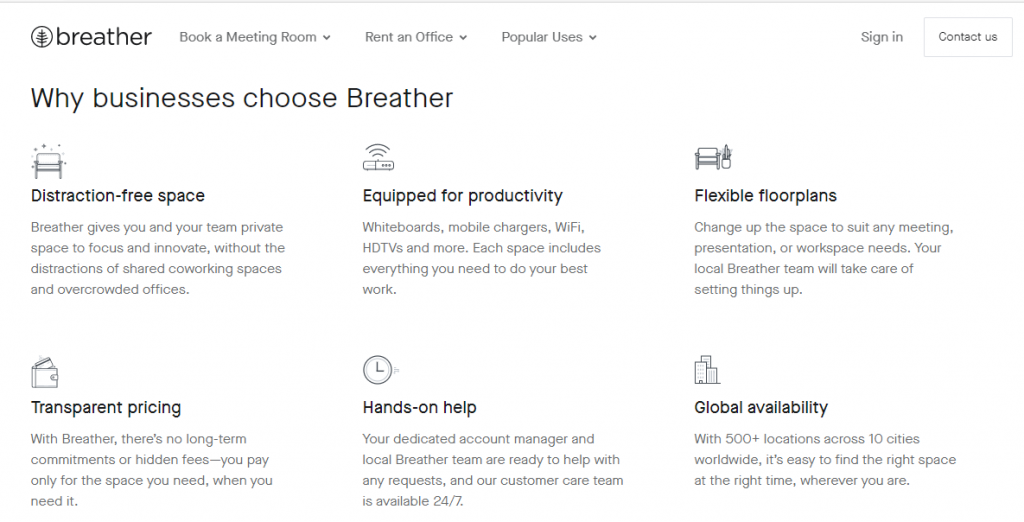 Breather implemented the microcopy with faces, connecting us with the real humans behind the design. It makes the user connect further with them. As the name suggests, their use of color pallets and empty spaces gives room to the user to breathe.
You should implement the use of microcopies in your landing page to make it user-friendly and engaging.
Tips – Be clear with what you offer.
Poached is a website which connects proprietors and culinary talent. When you open the website you get to know what it has to offer. "Food, Drinks, Jobs".
There is a big , "Post a Job" and "Choose a City" CTAs to help you out. The landing page makes it simple and easy for you as a user to direct through the website. Hence, becomes more engaging.
Tips – Keep it simple.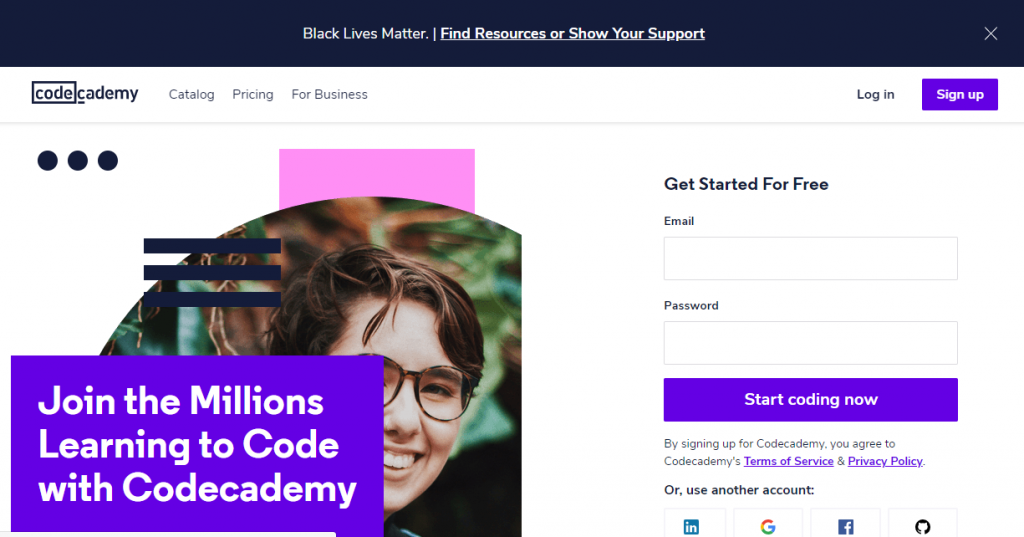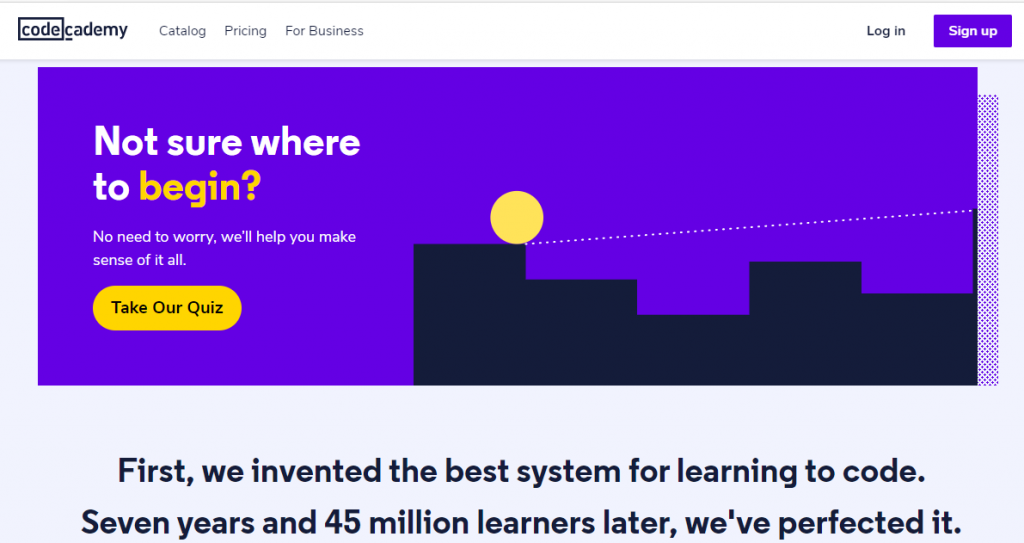 Codecademy landing page is very simple in design as well as in copy. The form at the top of the page is very simple and only requests email address, password and a username to sign up.
Users who need information before signing up for the website, the landing page has a video below the fold explaining the value addition through real life examples. The simplicity of this B2B landing page makes the intimidating looking world of coding, look very approachable.
Tips – Make your brand visible and likeable.
As you will open Club W website you will get to know what the website is about. The landing page clearly speaks out with its attractive header – 'We are all about WINE". The landing page has very efficiently utilized negative spaces.
With addition of images beneath the header, the website becomes more attractive to users. And, of course, the CTA button – 'Email Us', makes it more engaging. Club W presents a good example of how landing page should be lain out.
Tips – Cater Information in variety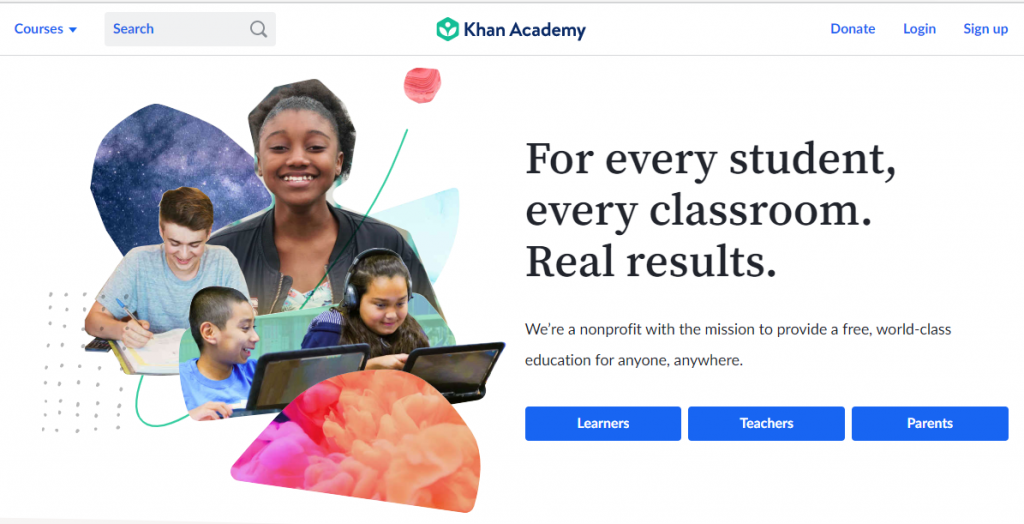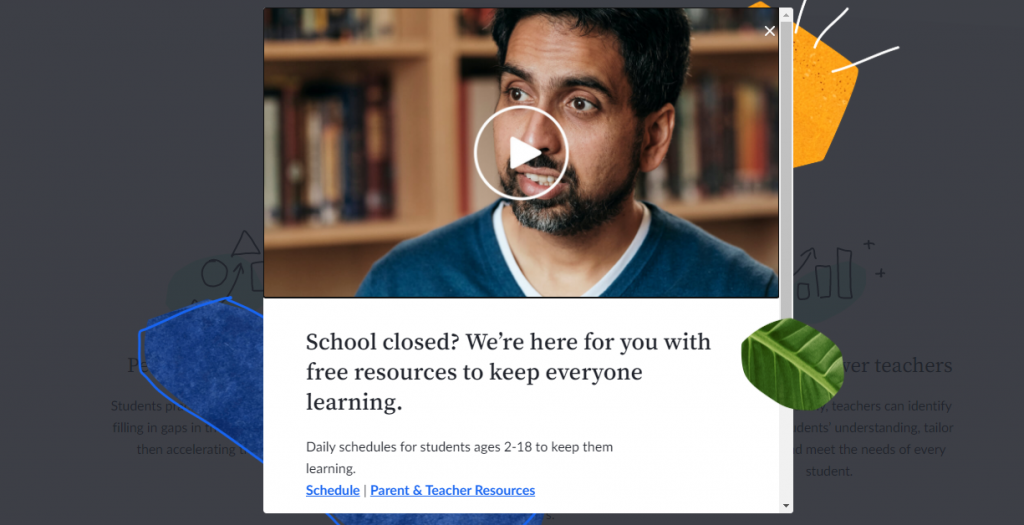 Khan Academy boldly uses homepage as landing page. Doing this, it took a large responsibility of catering a variety of audiences. All with different expectations and needs. Yet, Khan Academy does a brilliant job in maintaining user engagement.
It is a very good example of B2B landing page. This page is clearly designed for three different types of visitors: those who want to learn something, those who want to teach, and parents who are interested in using Khan Academy for their kids. And it very neatly presents all these sections on the landing page. And there is also a call to action button at the bottom of the page.
Things that make this Cigital landing page work. Images used share relevance with the website. There is a simple description of the ebook, which tells users what they will be getting to know through it. There is one call-to-action — "READ THE EBOOK" — bright yellow color makes it stand out on the website.
The navigation at the top of the webpage was A/B tested by Hubspot to see whether it was necessary or not. In test results, the landing page without navigation tabs received more engagement in comparison to the original one.
Tip – Make your landing page attractive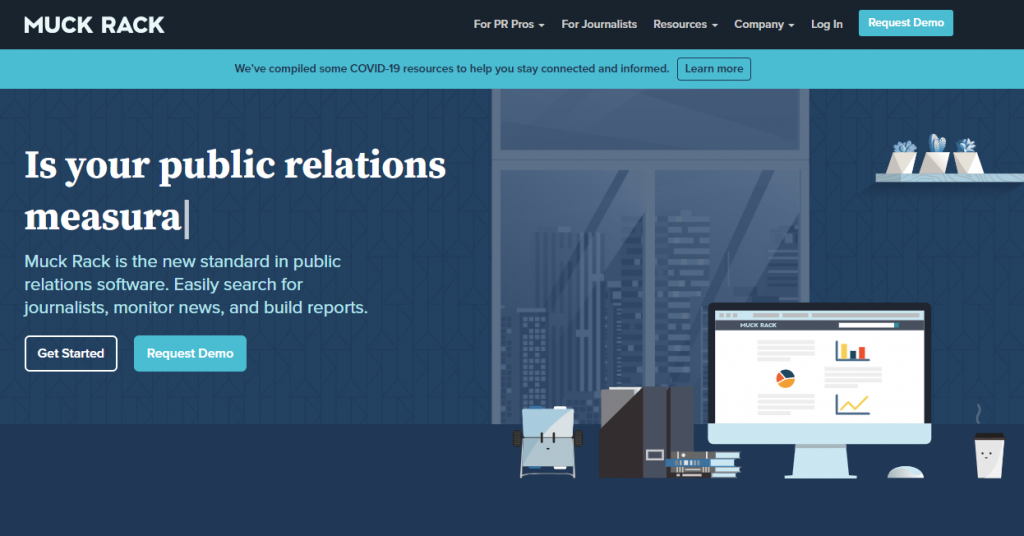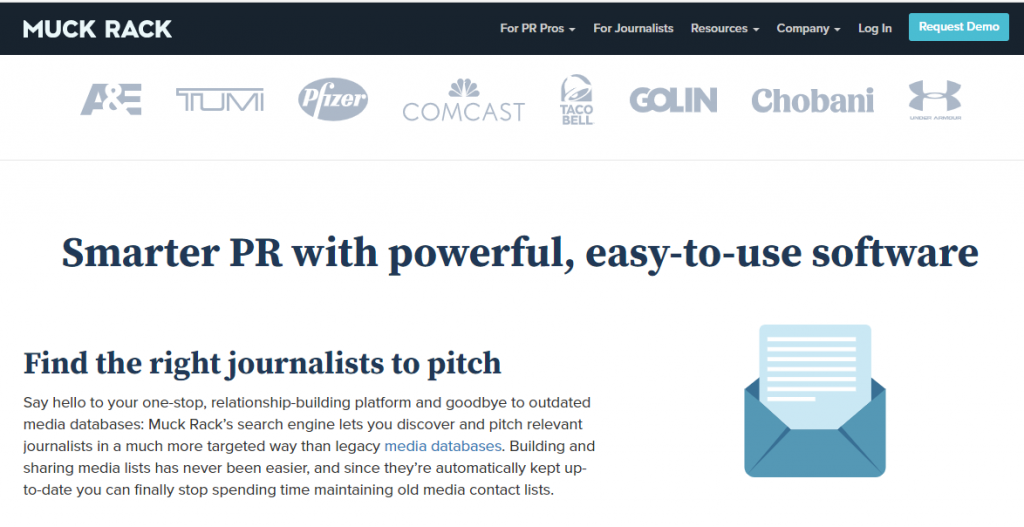 Muck Rack's landing page offer page for both it's audience. The form is split in two parts, one for finding Journalist and other for building free portfolio.
Apart from serving both its audience at the same time, the landing page is simple and visually stunning. it is interactive and offers scannable yet descriptive headers about Muck Rack's services. it also includes testimonials from industry professionals.
Professional Wingman is a website which will help you find dates and meaningful relationships.
Landing page shows the outline about the coaching lessons and the process of hiring of a professional wingman. While filling up the form, users are asked to fill information. Sending an indirect message to the user that the website is meant for serious business.
Tip – Motivate Users at the first sight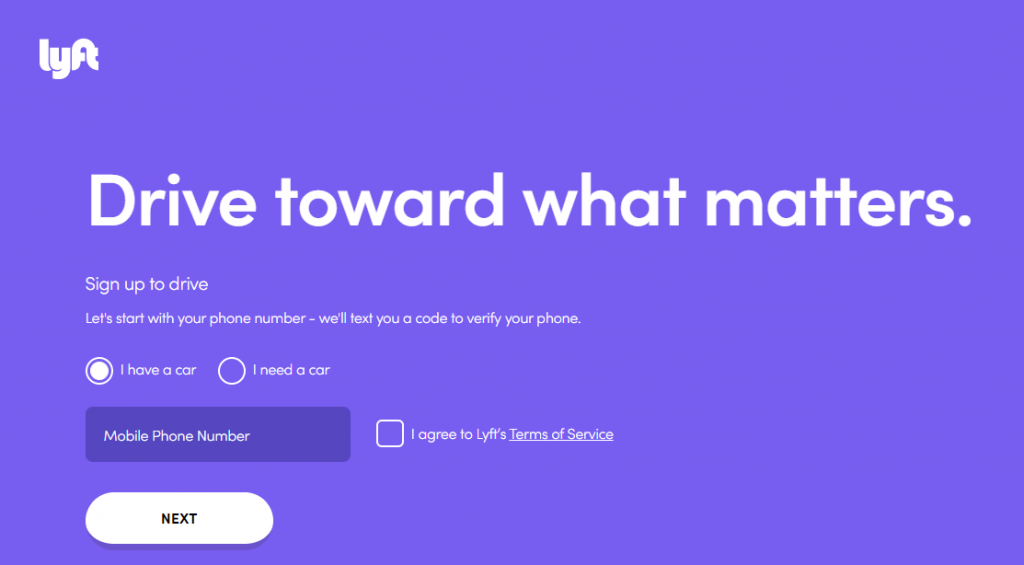 Lyft's landing page engages users instantly with targeting their motivation, through 'Earn money easily.'
Lyft's landing page is a very well utilized and executed landing page. It is one of the best examples of B2B landing page.
The form on the landing page is very interactive and has distinctive fill up spaces such as cities and numbers of hours the users opt to drive. When visitors fill out that information and press "Calculate," they aren't taken to a new page. Instead, they see a dollar amount followed by a new call-to-action button to "Apply Now".
11. ActiveCampaign
You usually have less than 15 seconds to capture someone's attention and show them they have clicked through the right place. This is especially true in the B2B world because decision-makers are always on the run to solve a specific business problem.
A great example is set by Active Campaign where they do not just target visitors who are searching for any old email marketing platform. They basically try to target visitors who care mostly about personalization and segmentation. They go by the headline "Put the right emails in front of the right people." This heading gives relief to those who are having issues with targeting. The main focus of the headline is not on any specific features that ActiveCampaign. It focuses on the visitor and the goal they are mainly trying to accomplish. This is customer-centric marketing in action.
Tip: Solve the problem your visitors care about.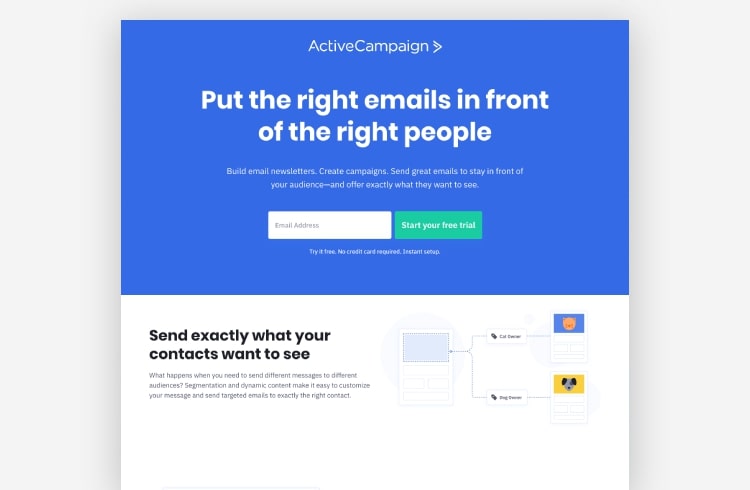 12. Shopify
When you try to get B2B leads, it can be tempting to ask your target audience every possible question your sales team could possibly want to know about. "What's your name? What's your phone number? How big is your company? and so many questions are enough to make anyone want to click away.
This example from Shopify proves that sometimes less is actually more. Rather than scaring people away with a big old form of questions on the landing page, they make it easy. All you need to do is enter your email address and that will be all.
Tip: Make the landing page simple and easy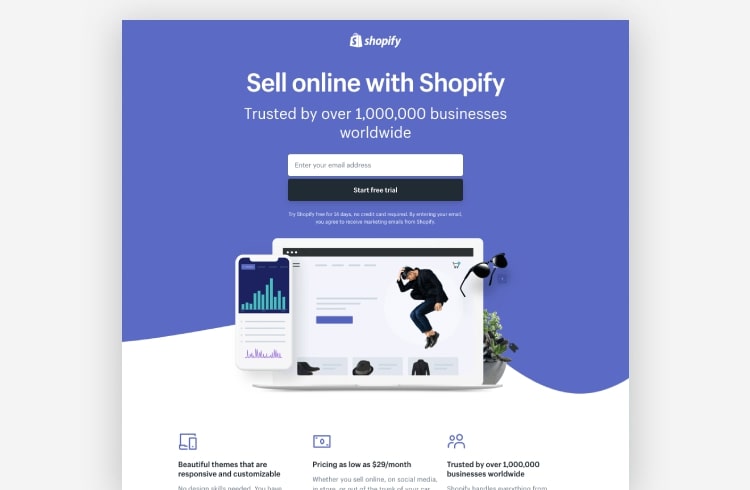 13. B2B Quotes
Many B2B landing pages have the exact same Call To Action buttons. "Start Your Free Trial," or "Request a Consultation" these mostly work well but they are not always the best option to use all the time.
B2B Quotes shows how you can get more specific with your Call To Action to persuade more people to convert. The form at the top asks visitors to fill out some personal information about what they are looking for, and then ends with a button that says… drumroll… "Get 3 Quotes Now."
It is simple and yet so powerful. By being specific about the number of quotes, the page sets exceptionally well. If the form simply said "Submit" then visitors would have no idea what they would get when they click that button. If visitors do not know what they are getting, then they have less reason to follow-through.
Tip: Get specific with your Call To Action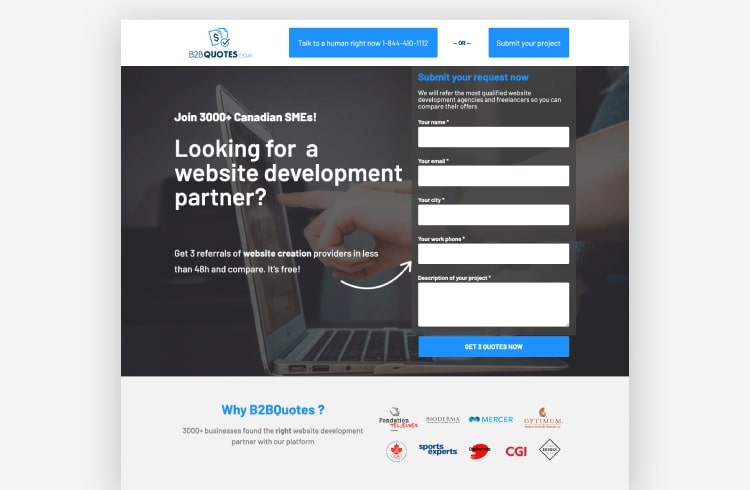 14. Thinkific
Thinkific has an all-arounder beautiful landing page form. About halfway through the page, they have included an interactive tool with the title: "This is how much you could earn on Thinkific."
The tool on the page includes two fields that you can adjust: how much you plan to charge per online course, and how many students you estimate you will have. It is the most clever way to help visitors visualize their future success with the platform.
Tip: Point visitors what results they can expect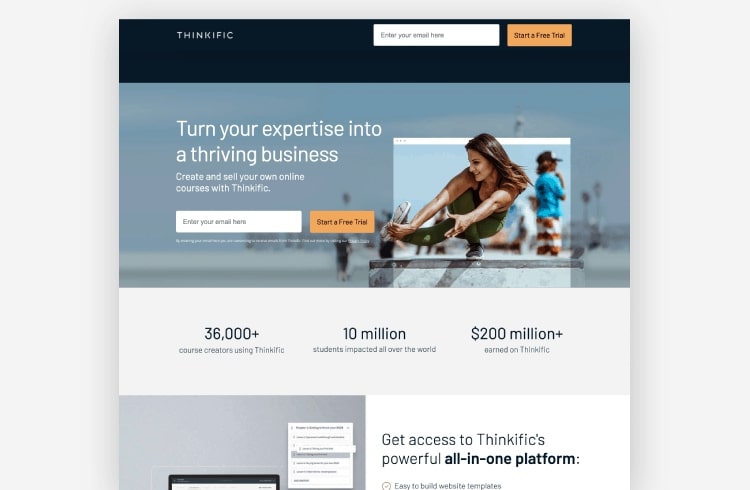 15. HubSpot
How do you tell visitors about your B2B tool if you do not know who your target audience is or why they want it in the first place? Many SaaS businesses face this challenge because they have multiple different target audiences and use cases. This means that it would take up a lot of space on the page to explain every single important point for every single person.
One of this landing page examples from HubSpot is unique. Rather than going into great detail about how all of the different segments can use their software, HubSpot created one short landing page to direct each segment of their audience into their own personalized demo.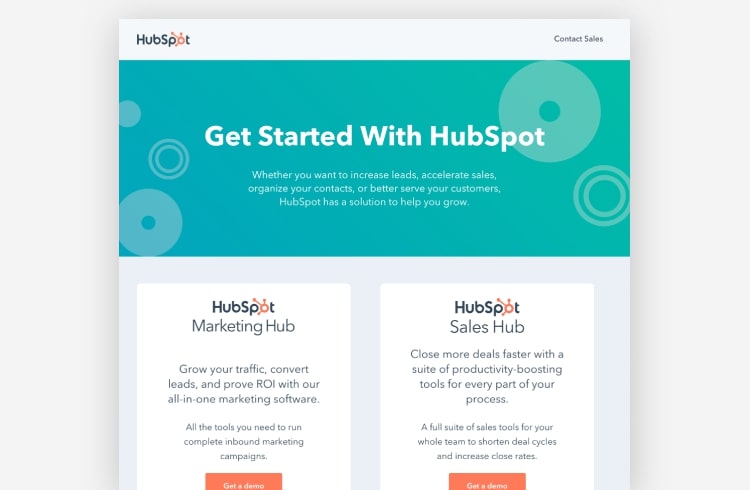 Learn More About: The Step-by-Step Guide To Writing your Entire Landing Page Copy Here
Tip: Segment your leads with landing pages
16. Slack
Most people believe that Slack is a workplace chat platform. Well, this example perfectly shows how one can use the landing page to literally change the way people think about the product or service.
In the hero section, you can see Slack's new positioning in action. According to the hero section of the landing page, "Slack is where work happens.". It is not just for chatting with your colleagues.
The page describes the Slack platform as a "collaboration hub" where you can "create a channel for every conversation" and "find what you need quickly." In just a few minutes, the landing page changes your opinion of Slack and makes a compelling case for why your business needs it.
Tip: Always try out new positioning on your landing page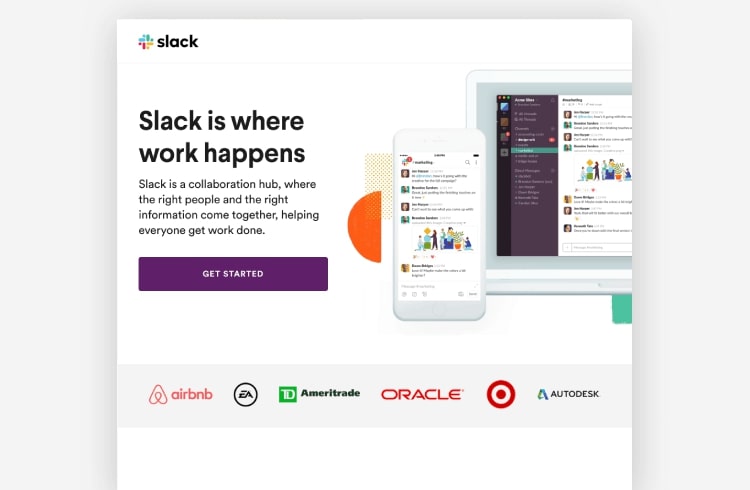 17. Intercom
Linking from a landing page to multiple different pages of your website is a big no. You want to keep visitors focused on a singular Call To Action so they are more likely to convert. But in B2B, sometimes the audience needs more details before they pull the trigger and decide to buy.
Take this example from Intercom where the main CTA is to start your free trial, but the page also offers the visitors with an option to learn more about how they can use the platform to acquire, support, and engage customers. Each of these buttons takes you to a different section of their website, with more details on different cases. It acts as a route for more problem-aware visitors to explore.
Tip: You might have to link out to other pages if visitors need more information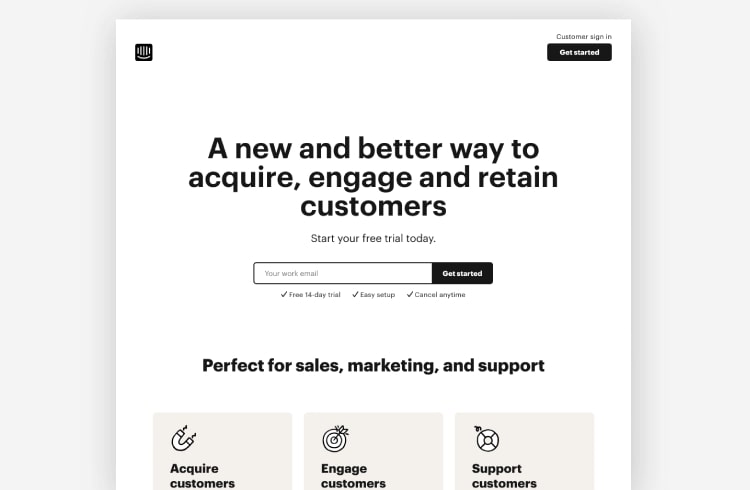 18. Unbounce
One of the beautiful thing about landing pages is that you can actually test and see what works best for your audience. Unbounce has done the same with their landing page. Their team wanted to test two variants of this top-of-funnel page.
Rather than running a traditional A/B Test, their team decided to use Smart Traffic to get results faster. With Smart Traffic, one can use AI to match each visitor to the variant that's most likely to convert.
Tip: Test multiple variants of the landing page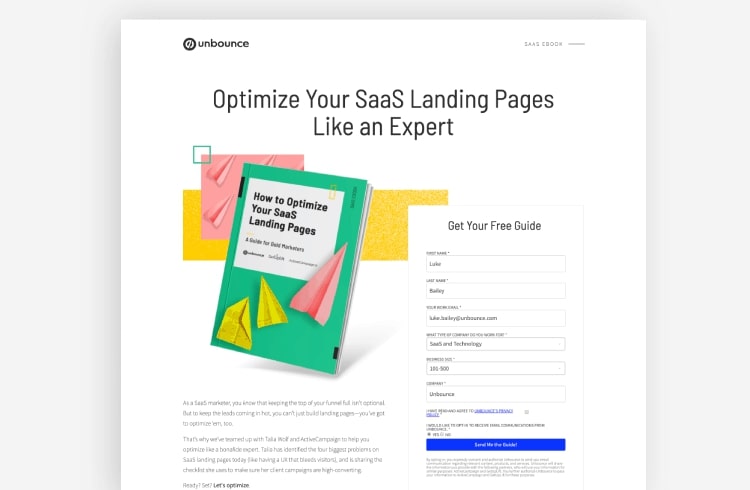 19. Blink
Social proof and testimonials have always proved to be essential. While in most cases a snazzy headshot photo and a great quote from one of your customers work great, but there are also other ways you can build trust on your landing page.
Blink shows three different types of social proof you can use to persuade visitors. First, they hit you with the logos of some of their "Select Clients," which include heavy-hitters like Google, Amazon, Starbucks and NASA. Then, the page directs you to some testimonials from their satisfied clients. Lastly, they show off the industry awards Blink has won over the years.
Including one or two testimonials can be helpful but when you include this much social proof on the page it creates a bandwagon effect that is hard to resist.
Tip: Include the right kind of proof because you need to build trust and loyalty.
Also Read: 10 Simple Ways to Optimize Your Website for Lead Generation
20. Zoho
When evaluating B2B tools, business thought leaders rarely make a purchase based on the first landing page they see. Since this is a business investment, most folks do their due diligence and research all possible options before making a final decision.
That's why the competitor's landing pages have become a thing. The main idea is that you can bid on a keyword or brand name using Google Ads, and create a landing page that directly compares your product or service to the one visitors are actually searching for.
This page from Zoho comes up when you search for "Mailchimp alternatives," for example. While you can't use competitor names in your ads, you can use them at the top of your landing page to help make the page more relevant. This is an interesting approach that has got many organizations bidding on their own brand names to stave off the competition.
Tip: Use landing pages so as to target your competitors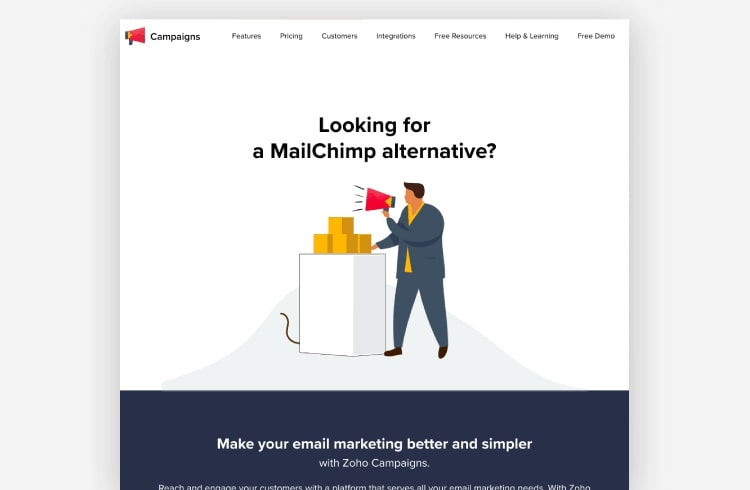 Wrapping Up
At the end of the day, a great landing page is simply the one that clearly defines its value to its audience and generates leads, but the most effective way to do this depends on your specific audience, brand, and business. While most landing page examples look different and use a variety of interesting strategies to pull in audiences, but they all serve one major purpose i.e mainly to get website visitors to convert to the next stage in the buyer's journey. Do you find these B2B landing pages example inspiring? Tell us what you feel in the comments below.
If these examples have inspired you, but you are still confused about how to design your landing page? or just looking for more landing page design examples?
Do you want yours to be among the best B2B landing pages?
Nexuses is a B2B creative marketing agency, we craft and design all types of Landing pages fit exactly for your B2B business needs and that go along with every stage of the funnel. What are you waiting for? Start a chat with our design experts.